Why work at Runroom?
Passion above all

You will work for industry-leading clients alongside people who are genuinely passionate about their work, aiming for excellence in both work approach and the quality of what is produced.
An Agile Business Consultancy

We're driven by a culture of continuous improvement, constantly innovating from creativity, and delivering the highest value to our clients.
Small Teams of Remarkable Persons

We organize ourselves into small, multidisciplinary teams that autonomously manage projects, all working together towards the project's success and the team's well-being. We steer clear of silos and thrive on sharing knowledge.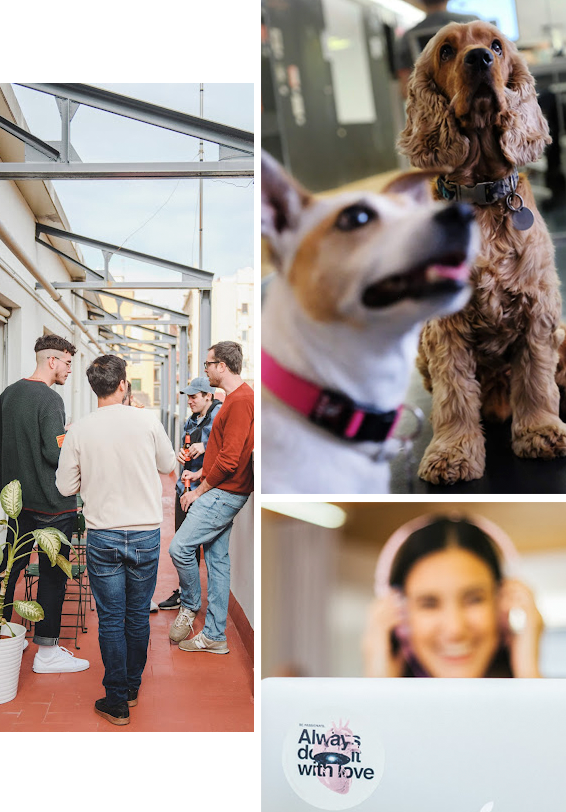 Every Opinion Matters

We empower communication and feedback spaces such as team retrospectives, fishbowls, Officevibe surveys, 1-on-1s, and whatever you need to make yourself heard, express your concerns, propose initiatives, and participate in Runroom's change process.
We Enjoy Having Fun

Leisure moments are never lacking, whether remote or in person. We love having a laugh, organizing the renowned barbecues on the office terrace, or gathering at summer and winter parties. If you're happy, so are we.
Diversity is Part of Our DNA

You'll work with people from various nationalities and backgrounds, eager to share their passions, viewpoints, tastes, and culture. We offer equal opportunities. Your uniqueness makes us bigger.
Job Opportunities
Can't find an offer that matches your profile?
Perks of Working at Runroom
Work-life balance
You can start your day between 8 am and 10 am, and end it between 5 pm and 7 pm. Possibility to have Friday afternoons off. Intensive schedule during July and August. We do everything in our power to balance your personal life with teamwork.

Remote, if you prefer
Depending on the option that suits you best, you can work 100% remotely, in a hybrid mode, or at our Barcelona offices. The choice is yours.

Just Like at the Office
To ensure your comfort while working from home, we provide you with an ergonomic chair, dual monitor setup, and all the necessary materials, so you won't miss our offices too much.


Autonomy
We don't mind who starts first or finishes last.
Your drive for well-done work will set the tone.

We are flexible
We listen and adjust to your needs whenever possible.

Guidance
A buddy will accompany you from onboarding to full integration into your new team. This way, we ensure the perfect match.

Commitment
By default, you'll have a permanent contract and 23 days of annual leave. Moreover, after 5 years at Runroom, you'll enjoy 4 extra annual vacation days that increase after 10 years: we want to grow together.

Flexible Compensation
You'll be able to allocate a portion of your salary to everyday expenses like lunch, childcare, or public transportation, helping you save on income tax. You can also take advantage of a special health insurance offer.

Learning & Growth
You can thrive in an innovative company. We offer continuous training, labs, role-specific communities of practice, and the opportunity to attend courses that will enable your personal and professional development.

We Take Care of Ourselves
We have groups for running, paddle, functional training, yoga... and a bike parking for cycling to work.

We Take Care of You
If you're working from the office, you'll always have fresh fruit, refreshments, tea, and coffee available to help you disconnect and recharge whenever you need.

Your Safety
From your onboarding, our insurance provides specific coverage in case of theft or accidents involving work equipment, as well as in case of death or disability. Additionally, as part of the occupational health and safety program, you'll have the opportunity for a comprehensive medical check-up once a year.
Sustainability
For the overall well-being and our commitment to the planet, we have implemented several initiatives to promote the 3 Rs: Reduce, Reuse, Recycle.
Pets
Your pet is welcome! We've been sharing spaces with our canine companions for years. To manage the coexistence between pets and people, we've established a committee to ensure that everyone, regardless of species, feels comfortable in our offices, whether for work or for playing with toys and taking naps.