Since this profession chose me back in 2011, I never thought it would be a rollercoaster ride of constant evolutions. The truth is that this edition of Google Marketing Live for EMEA has once again announced twists in the industry. No surprises, however. The innovations presented at this #GML2023 on May 24th mark the fourth or fifth wave of significant changes we've faced since Runroom, changes such as the emergence of mobile devices in campaigns, the automation of the purchasing system, the cookie disruption, machine learning in creativity, or segmentation.
We've once again experienced a perfectly executed presentation by the Google team in Dublin. You always get the feeling that you don't know how much you already have implemented and how much is left to implement. My intuition tells me that there is a lot of work ahead, that the journey will be exciting, and, obviously, organizations that embrace these changes will have a clear competitive advantage in the short and medium term. Here's a brief summary of what we experienced.
The presentation was divided into three main pillars:
The Future of AI
Coming Soon in Google Ads
Measurement & Privacy
The Future of AI
Vanessa Hartley, VP Large Customer Solutions EMEA, was responsible for providing context to the significant impact that Artificial Intelligence will have on the industry, defining it as "the era of extraordinary opportunities for marketing leaders and the industry as a whole."
People's searches around Al are moving away from basic curiosity to more practical implications. Google Search interest for "how to ai"' has grown 70% more and is growing at a much faster rate than questions like "what is ai"
AI is currently experiencing one of its best moments, and it has gained significant attention this year, indeed. However, marketers and advertisers have been working with a high degree of AI in our Google campaigns since 2016, bringing disruption to various industries from the bottom up. Marketing has played a major role in driving this disruption, and it's about to do it again. In the coming months, we will see Google upgrading its AI strategy with the goal of maintaining its lead in the industry. AI will not only impact marketing but every aspect of our lives.
Google Search interest in the topic of "artificial intelligence" has increased by 3X year-over-year in key markets across Europe, the Middle East, and Africa.
Artificial intelligence will provide us with many opportunities to enhance our profession, synthesize highly complex data, generate content with a single click, or engage in online activities conversationally. It will be generative AI that allows Google to take its core products to the next level. Although we are in the early stages, the first ads using this technology have begun testing in the USA this week, and we can assume it will be a game-changer in the industry in the coming months.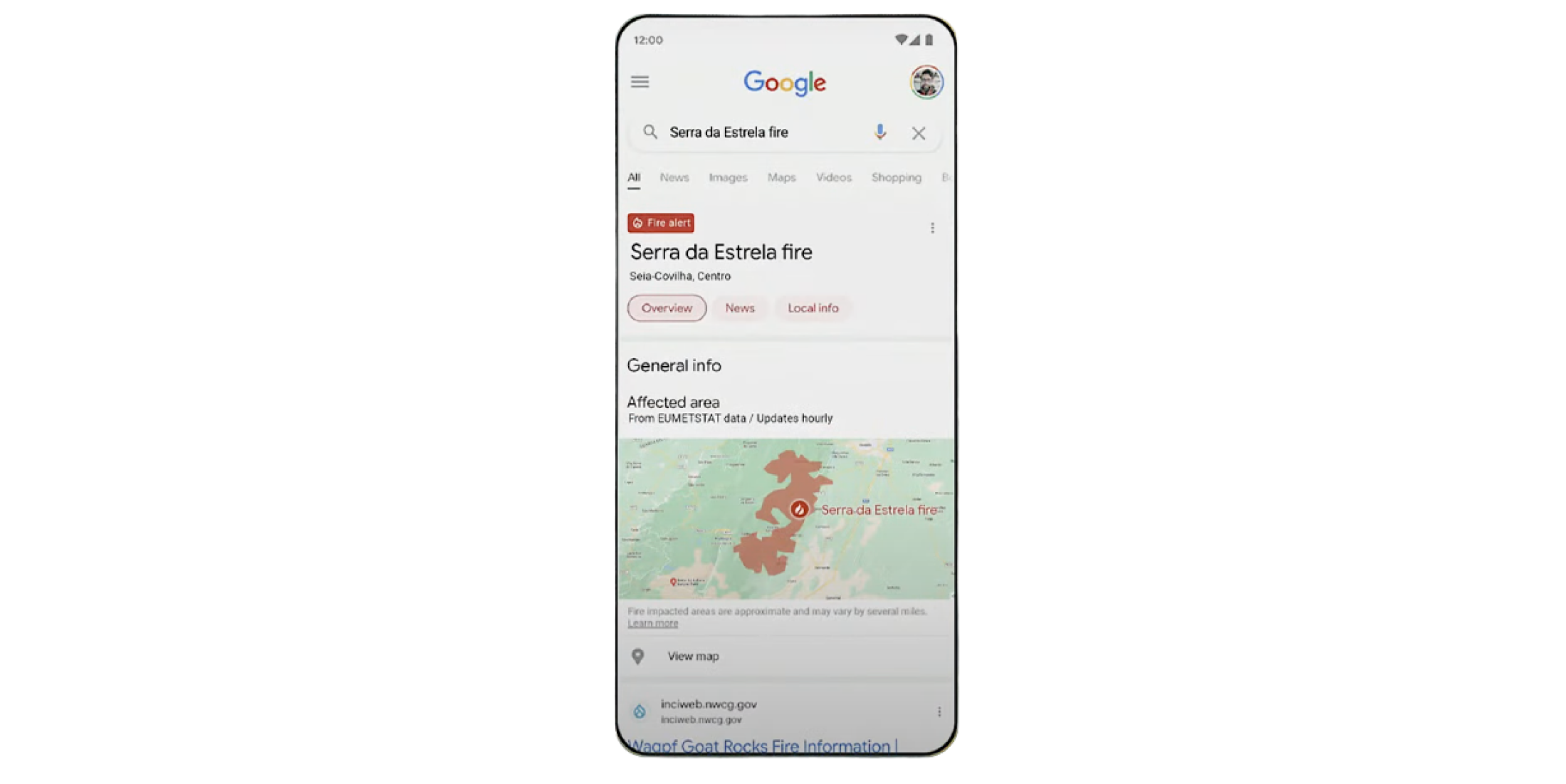 The impact of AI will not be limited to Google Ads; we are also talking about new organic functionalities for the search engine. The company's goal is to simplify complexity for people in general, communities, and businesses. For example, they have introduced a new product to combat forest fires, which have been increasing in many states and cities due to climate change. This new product will use satellite images to train an early detection model powered by artificial intelligence and predict the spread of fires, providing critical information to the population that could save lives in crucial moments.
There will also be innovations in Google Maps and in businesses, aiding in decision-making, problem-solving, and increasing productivity and creativity with the new workspace (Docs, Sheets, Slides, and Meets). There are no new announcements beyond the launch of Bard, which is not yet available in Spain.
Vanessa Hartley emphasized three fundamental pillars of how these AI advancements will impact 2023: Creativity, Performance, and Privacy. You can review this Google Ads checklist to evaluate your campaigns and their use of AI.
Coming Soon in Google Ads
The most anticipated part of the event was presented by Suzanne Pellican, VP Ads User Research & Experience. Just two weeks ago, they teased the changes in Search with Generative Search AI, so we were eager to learn how these new products would impact search advertising. It did not disappoint.
While it may seem like a recent development, artificial intelligence has been in the works within Google Ads for many years. One of the most impactful launches was that of adaptive Search ads back in 2018. The advancement of AI has been one of the biggest challenges for advertisers in the last decade. How do I control what the machine says about me? How can I ensure brand safety in what appears? What insights does it have about my business, and how can I fine-tune my custom intent? This journey is not slowing down, and in 2023, they are working on further AI development in Google Ads, highlighting changes that were unimaginable just a year ago.
The goal remains delivering the right message to the right user at the right time, and the idea is to leverage AI to do it more quickly and efficiently.
Creating Ads in an Instant
That's the goal Google has set for itself: to provide us with maximum efficiency in creating our ads through campaigns focused on achieving our business objectives by marketing our products at the speed of consumers, no matter how unpredictable their journeys may be. It has been proven that advertisers who adapt more ad formats in Google's advertising network achieve better results. They introduced three new products that will harness the power of AI, including two campaign enhancements and an entirely new campaign.

Search Campaigns with Real-Time Collaboration from Google's AI
Here are some noteworthy highlights:
The campaign will automatically extract keywords, titles, and descriptions from our website, which traffic managers can edit and enhance with their business knowledge.
We can collaborate with Google's AI as if it were a Chat GPT, where it will request additional information, guiding us throughout the process and interacting with the machine.
After this teamwork with AI, we can retain the best descriptive versions for our campaign.
It will also provide recommended images from our website.
After selecting all the assets we want to include, it will provide an ad relevance score, and from there, we can work on the ad in greater depth.
Although the exact launch date is not confirmed, they are considering releasing these campaigns in late summer for the English language.
They have not shown how it will work yet, and we don't know how brand-safe it will be, but by the end of this year, they will also introduce a new product in search that will adapt titles to the user's query, similar to dynamic titles but more advanced. They did mention that we will have the option to review these assets and exclude any that we do not want to display again.

Performance Max Campaigns with Asset Upgrades
Key Takeaways:
We can provide our organization's URL, and it will automatically select images to propose. However, it's crucial to have strict control over the rights to these assets.
Google Ads will generate entirely new images with AI based on these assets, including assets aligned with our brand, leveraging Google's knowledge about our business.
We can interact with this AI to create entirely new images within seconds.
This development leads us to consider: Are you training your dragon in the Midjourney? Well, you better get ready! We'll need to learn to be more creative, understand the complex landscape of image campaigns where these assets appear, and effectively harness the power of AI.
And why is it important to adapt so many ads? It's because users consume a vast amount of information across various channels rapidly when making purchase decisions. Diversifying and understanding the complex advertising market while attributing correctly is more critical than ever.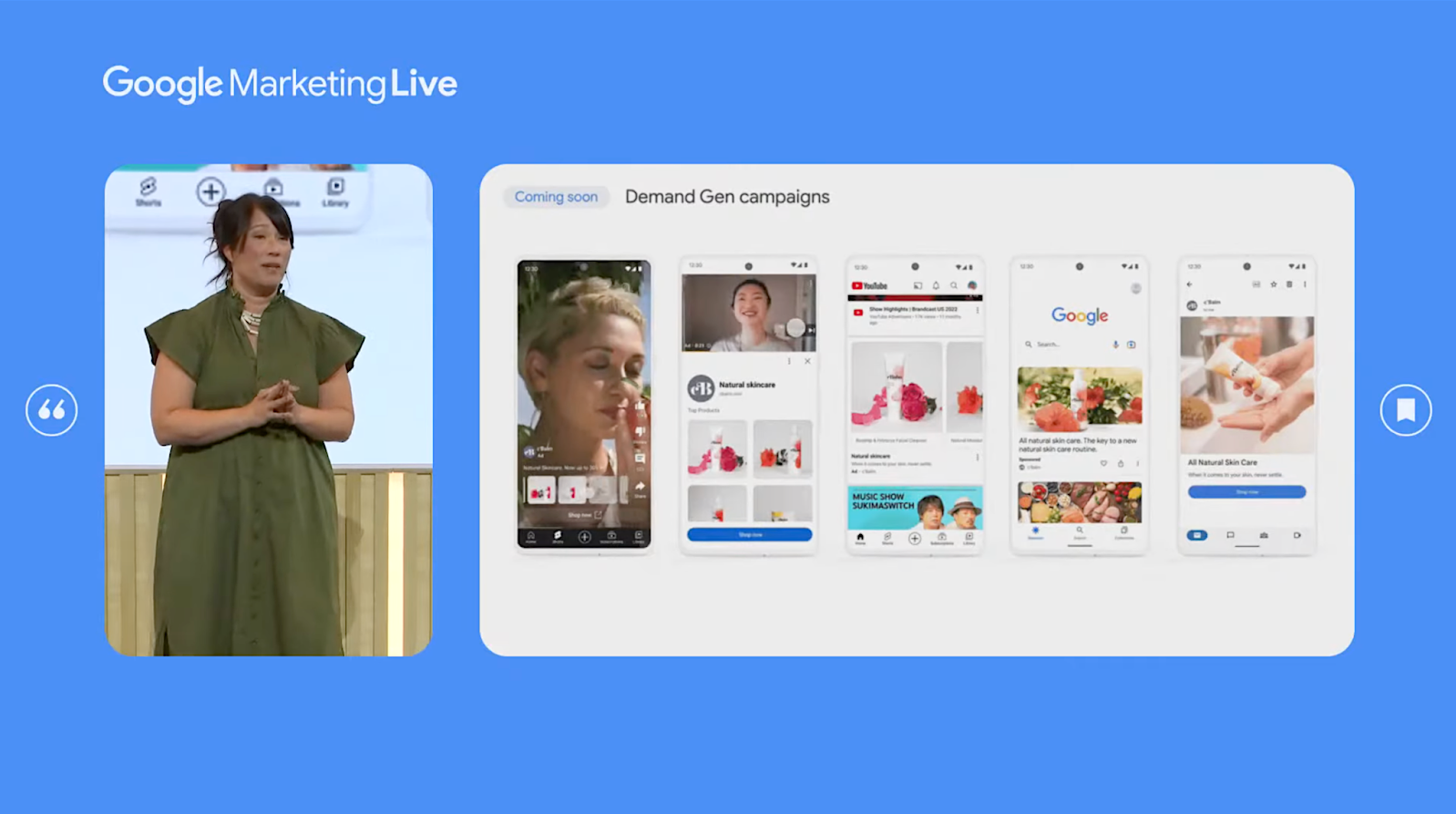 Demand Gen Campaigns:
They also introduced the new Demand Generation Campaigns, which are highly focused on social marketers. Entertainment on YouTube (including Shorts), Discover, and Gmail will be used to tackle the increasingly challenging task of capturing user attention.
We will gain access to new qualified audiences with AI-powered lookalike segments. Even better, we can further tailor our creatives to specific audience segments to deliver the right message at the right moment. Not only that, but we will also have tools to demonstrate how demand is increasing through data-driven attribution and search/brand/conversion lifts. It will be launched globally in a couple of months.
In summary, AI will allow us to take a step further in getting things done. Just as with the emergence of mobile devices in advertising, in the coming months, we will be learning and measuring the impact of all these changes in our campaigns, preparing the environment for a smooth transition, and testing multiple tools to make the most of these advancements.
Measurement & Privacy
Finally, the privacy segment didn't bring too many surprises. Google reiterated its commitment to ending the old marketing practice of tracking users, and they introduced a few updates, such as:
In Google Ads, there will be changes in the integration of first-party data with other applications, although the details of what this entails and how we can leverage it are still to be determined.
We will be able to generate GA4 audiences directly in Google Ads, simplifying the creation process.
We can create Customer Match lists if we already have Enhanced Conversions implemented.
There will be new reporting features in DV360 for connected TV campaigns, allowing us, for the first time, to understand the deduplication of users between linear TV and digital (let's see at what cost :D).
At this point, they emphasized the importance of:
Investing in our own data and its collection. The better we do it, the better positioned we will be to drive our business results.
Properly tracking all our conversions, both online and offline. Are you up to date with best practices in conversion measurement? Take another look!
What they've maintained, after postponing it several times, is that third-party cookies will disappear from Chrome next year, although they still haven't specified when.
Make sure to migrate to GA4 before July 1 ("please, please, please," they have requested).
86% of people believe that we are more loyal to a brand when it is completely transparent about data collection.
Some questions that remain unresolved in my mind: How will the changes in AI affect the volume of data? How much investment is needed to obtain relevant recommendations from this new technology? How will all these changes affect the measurement of lengthy decision-making processes? Is the market prepared, considering the micromanagement of keywords and ads that is currently in place? Can AI generate clickbait that doesn't meet user expectations? How will it affect the cost of campaigns? Will advertisers create very similar copies and focus on highly competitive keywords?
In summary, 2023 is going to be a year of high complexity. As always, complexity provides us with great opportunities. It's time to experiment, experiment, and experiment.